Your New Puppy's First Year
You can't beat the feeling of bringing a new puppy into your life.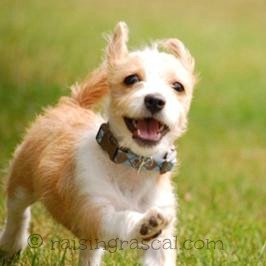 It's so exciting, and totally magical!

But once the magic wears off the realities of everyday puppy care can become frustrating, confusing, even worrying at times....
..... and it often seems as though Rascal isn't the only one who's doing a lot of learning!
Young puppies are babies, but they're baby dogs not baby humans, and they're an adorable bundle of canine instincts and hard-wired behaviors.

Right now your tiny puppy is growing and developing at a phenomenal rate - physically, emotionally and socially.
After spending 7 or 8 weeks with his doggie family, Rascal has already learned the basics of being a dog and how things work in the canine world..... but now he needs to learn how to be a dog in the human world.

Knowing what he needs during each of the stages of puppy developmental (and how to meet those needs) is the key to raising a happy, healthy, friendly & well-behaved dog.

Your Incredible Puppy
In the first twelve months of your new puppy's life he will have sped through anywhere between 13 and 18 human years of growth and development!
That's pretty impressive, kind of like a human baby on 'fast-forward'! 

The lessons he learns during this first year (both the good and the bad) are likely stay with him for life.... and the stuff that he doesn't learn, but needs to, will be much more difficult to teach him later on.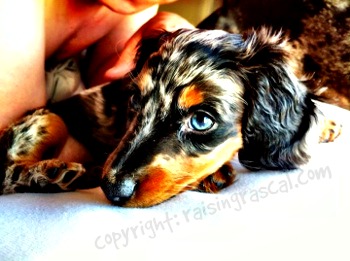 So, clearly these early weeks and months are pretty important - for both of you.

Luckily, taking good care of your new puppy is really very straightforward when you understand what he needs, why he needs it, and how to give it to him.
I've owned, raised and trained puppies for decades and I know the answers to those 'what, why and how' questions.
I created this website to share them with you - and save you the decades-long learning curve.


My Practical Step-by-Step Guide To Your New Pup's All-Important First Year
Month-by-month guide to puppy development & growth that show you exactly what to expect at each age/stage - plus everything you need to know about meeting your  pup's needs every step of the way


Simple, practical, tried-and-tested tips that really WORK - no guesswork or unrealistic promises, just proven results


Up-to-date information and advice - simple solutions to everyday problems that help you find what you need - FAST


Comprehensive FAQ's page that tackles all the most common questions new owners ask about development, training, behavior, health & more.


The ultimate puppy problem-solving guide with the answers to all your 'how to...' and 'why does my puppy...?' questions that other books/websites often miss


Recommendations & reviews of the best supplies on the market, so that you know which ones are worth spending your hard-earned dollars on!


How Your Pup Grows & Develops In 12 Short Months....
This slideshow gives you a glimpse of the incredible physical changes a Labrador Retriever puppy goes through in the first year.
My love for dogs (of all ages, sizes and dispositions!) is the passion that drives this website, and I hope it will make caring for your new puppy a fun and worry-free experience.
It's a time of new beginnings, high hopes, love, laughter and cuddles - so don't forget to enjoy every minute of your Rascal's puppy-hood while you can. He'll be a big boy in no time at all. 
And remember, if you 'get it right' during this first year your little guy will grow up to be a confident, friendly, well-adjusted dog that you can take anywhere... one you're proud to call your best friend.
Good luck on your puppy parenting adventure..... I just know it's going to be amazing!
Return To Top Of Page